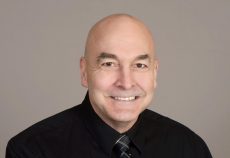 I live in Duluth Minnesota with my wife of 37 years, where I recently retired from a career as an Electrical Engineer in the Power industry. Then we also have a 34-year-old son who is a senior scientist for a pharmaceutical testing firm. I have been woodworking for more than half of my life then discovered segmented woodturning in 2010 and became hooked after reading Malcolm Tibbetts book. Since getting involved in segmenting I have been pushing the boundaries of Bowl-from-a-Board techniques, then both open and closed segmenting with my complex patterns.
When I am not in my home shop, you might see me cruising on his Gold Wing Motorcycle or lifting weights. I used to hold the Minnesota bench press record at 440 lbs. and was in the top 20 lifters in the USA.
I built a detached garage and took 12' by 24' for my shop, it is too small now to do furniture.