Curt Theobald receives a Lifetime Achievement Award during the 2022 Segmenting Symposium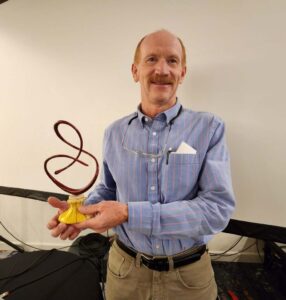 Curt's introduction into segmenting began in high-school shop class which started a lifelong passion for working with wood. His interest in segmented woodturning began to accelerate in the 1990's at a time when there was very little information to help turners learn the techniques, so Curt painstakingly taught himself and made a personal commitment to share his knowledge with others. Curt eventually released the first segmenting videos in the early 2000's teaching 1000's the basics and inspiring many to try segmenting. His approach to segmenting has always included a focus on design, form, precision construction and intense attention to all the details required for a high-quality segmented design. in 2001, he was also a featured artist in the AAW Journal. Curt's own work and contributions to the artform and the AAW continue to this day.
Curt's list of accomplishments is long. He has been an instructor at prestigious craft schools including Anderson Ranch, Arrowmont, and Marc Adams to name just a few. He has demonstrated at countless symposiums and turning events around the globe including NZ, Ireland, England, and France in addition to symposiums all over the US.
His creative work has been published in a long list of books and magazines like the AAW Journal, Woodturning Magazine, books like 500 bowls, Beneath the Bark, Conversations with Wood, Intersection: Art and Life, and many more.
Finally, Curt was one of the original organizers of the 1st Segmenting symposium which was held at Marc Adams School of Woodworking in 2008. This event was the genesis for the formation of the Segmented Woodturners chapter in 2009 where Curt was one of the original board members.
As you can see, Curt deserves to be added to the list of the prestigious previous winners. Lincoln Sietzman 2008, Ray Allen 2010, Bud Latven 2012, Malcolm Tibbetts 2014, Jerry Bennett 2016, and Bill Smith 2018 who have all been instrumental in making segmenting what it is today.
Click Image to see full size